Patios, Walkways & Steps
WI Landscaping & Design Company Specializing in Patios, Walkways, & Steps
At Rick Gruel Landscaping & Design we specialize in creating functional and beautiful landscaped walkways, steps, stairs, patios and fire pits. Have a unique design or idea? Call us for a free consultation and we will meet with you to figure out the best solution and possibilties with your home or business.
Walkways: We can use pavers, flagstone, trap rock, bark mulch, or crushed rock. Pavers and flagstone come in unlimited colors and styles. As for Trap rock and bark mulch, we carry in limited varieties.
Fire pits: These can be made out of natural rock, or manufactured rock. We have kits available.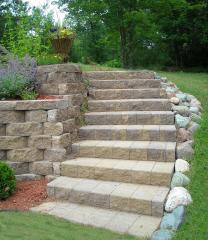 stepsSteps & Stairs: When the slopes are undesirable to walk up, we can make steps out of treated timbers, flagstone, and manufactured blocks. We have several different varieties to choose from.
Patios: Patios offer another great outdoor living space for gathering, entertaining, and cooking. Choose from a variety of different products available to create a new living space to fit your lifestyle. Many designs allow for planting shrubs, perennials, annuals and evergreens around the patio for beauty, protection and privacy.
When your yard or business is looking for an inviting landscaping element, why not choose a hardscaped patio, walkway, fire pit, steps or stairs. These design features are a great addition to enhance any property. Give us your ideas or we will give you some suggestions. We provide a long-lasting solution for you to enjoy for years to come.
Rick Gruel Landscaping & Design - "A Yard Ahead of the Rest"